Where You'll Be Able To Legally Bet On Sports In West Virginia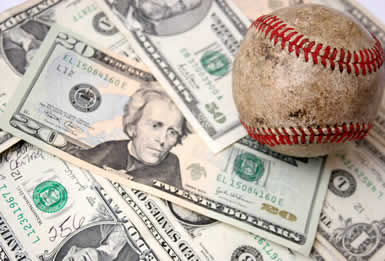 Now that the federal Professional and Amateur Sports Protection Act (PASPA, 1992) has been overturned by the Supreme Court (SCOTUS, 1789), West Virginia has been one of the first states charging ahead in establishing its own sports betting laws. After passing HB 415, sports betting is nominally legal in the state, overseen by the West Virginia Lottery. There are currently five facilities where you'll be able to legally bet on sports in West Virginia.
However, before any WV residents can actually wager on athletics at brick-and-mortar locations, the businesses in question actually have to go through the new licensing procedure set out by the law. Of course, this should only take a month or so at most, meaning that West Virginians will be able to put down money on their favorite teams and players in relatively short order.
The single caveat here, of course, is the fact that to enjoy sports betting in West Virginia, you will have to physically be present at one of the five licensed locations to place your actual wagers. (A mobile app interface for WV sports betting is allegedly in the works, but this system will take time to work out, so in the meantime, a drive to one of the state's racetracks – or a super expensive weekend stay at The Greenbrier – is in order. Remember, you can always use legal offshore sportsbooks like Bovada et al., as well.)
Here are the locations where you'll be able to legally bet on sports in West Virginia:
The Greenbrier
300 West Main St
White Sulphur Springs, WV 24986
855-453-4858
This is the most exclusive wagering facility in the state, as The Greenbrier is an historic luxury hotel and casino situated on over 10,000 acres of picturesque beauty. The 700-plus-room main building has suites starting just south of $500 per night, and you have to be a registered guest to gain access to the gambling areas. Whether or not The Greenbrier's sports betting lounge will come with that stipulation remains to be seen. If you can spare the cash, The Greenbrier is West Virginia's number-one gambling destination. (Also, there's an underground bunker.)
Hollywood Casino at Charles Town Races
750 Hollywood Dr
Charles Town, WV 25414
800-795-7001
One of WV's two Thoroughbred racetracks, the Hollywood Casino at Charles Town Races is also one of the nation's busiest horse racing venues, averaging 240 days of racing each year. The racino also hosts over 3000 slot machines and various table games, and there is a 150-room hotel on the property. Sports betting should be available here within the next 30-60 days.
Mountaineer Casino, Racetrack and Resort
1420 Mountaineer Circle
New Cumberland, WV 26047
800-804-0468
WV's other Thoroughbred racetrack, the Mountaineer Casino, Racetrack and Resort is actually the very first horse racing facility in the country to have slot machines and offer casino gaming, making it the very first American racino. The Mountaineer has 3200 slot machines, over 50 different table games, and hosts over 200 days of horse racing each year. Expect sports betting to be offered at the Mountaineer within a month or so.
Mardi Gras Casino And Resort
1 Greyhound Dr
Nitro, WV 25313
800-224-9683
Owned by Delaware North, the Mardi Gras Casino and Resort is a NOLA-themed greyhound racino offering 1000 slot machines, a poker room, and table games like blackjack, roulette, craps, and more. There is a 150-room hotel in the facility, and there are several gourmet and fast-food restaurant options to choose from. Simulcast greyhound and Thoroughbred racing is also available. Sports betting will be fast-tracked to this location, and it should be available to WV bettors before the start of the NFL season.
Wheeling Island Hotel-Casino-Racetrack
1 South Stone St
Wheeling, WV 26003
304-232-5050
Also a Delaware North property (meaning Wheeling and Mardi Gras can share a single sports betting license, possibly leaving one for the West Virginia Lottery), the Wheeling Island Hotel-Casino-Racetrack is a greyhound facility located on Wheeling Island in the Ohio River. Wheeling offers slot machines, poker, blackjack, roulette, and more. The venue has a tropical theme, and it also plays host to several concert and boxing events each year. Simulcast dog and pony betting are available, as well, and sports betting will roll out here in 1-3 months.
Best West Virginia Sports Betting Sites - 100% Trusted + Safe
| | | | | |
| --- | --- | --- | --- | --- |
| | | 50% Up To $250 | VISA + Wire Transfer | |
| | | 50% Up To $1,000 | VISA, Bitcoin, Cash Wire | |
| | | 50% New Member Bonus! | VISA, Bitcoin | |
| | | 100% Up To $300 | VISA, Bitcoin | |
| | | 50% Up To $1,000 | Bitcoin, Wire Xfer, VISA | |