White Sulphur Springs Sportsbooks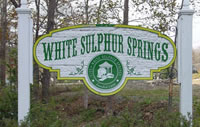 White Sulphur Springs, one of the most picturesque regions of West Virginia, is home to the famous Greenbrier, which is one of America's oldest properties and home to one of the country's most elite casinos, the Casino Club at The Greenbrier. While White Sulphur Springs is located in the southeastern part of West Virginia, it's actually fairly isolated, making the only White Sulphur Springs sportsbook at the exclusive Greenbrier resort.
Those living in and around Charleston and Huntington – West Virginia's largest two towns by population – will likely also consider The Greenbrier to be both a Charleston sportsbook and a Huntington sportsbook, as the venues are only 120 miles and 170 miles to the northwest of White Sulphur Springs, respectively. Still, due to the high-dollar nature of the luxury resort, most Charleston and Huntington sports bettors will probably go to other area casinos before splurging upwards of $500 a night on a Greenbrier suite to get access to the resort's casino and sports wagering floor.
Interestingly, The Greenbrier is owned by West Virginia governor Jim Justice, who famously refused to sign SB 415 into law, as he had a direct conflict of interest in voicing his support for the legalization of WV sports betting. However, because the bill passed the state house and senate, it became law after a set time period in limbo, as Justice also passed on vetoing the bill. Justice has indicated lukewarm support for the concept of "integrity fees" being paid to professional sports leagues as part of offering sports wagering in the state, but this aspect was not included in any legislation and other states have moved away from this professional league requested "tax".
The Greenbrier, by all accounts, is offering one of the most glamorous, engaging, and high-class sports betting experiences in the entire country! In fact, after 7 pm, men are required to wear coats and women are required to be present in dresses.
Best West Virginia Sports Betting Sites - 100% Trusted + Safe
| | | | | |
| --- | --- | --- | --- | --- |
| | | 50% Up To $250 | VISA + Wire Transfer | |
| | | 50% Up To $1,000 | VISA, Bitcoin, Cash Wire | |
| | | 50% New Member Bonus! | VISA, Bitcoin | |
| | | 100% Up To $300 | VISA, Bitcoin | |
| | | 50% Up To $1,000 | Bitcoin, Wire Xfer, VISA | |
Is Sports Betting Currently Legal In White Sulphur Springs, WV?
Yes, sports betting is currently legal in White Sulphur Springs, WV. The law made it very inexpensive for state gambling houses to get started, asking only for a $100,000 licenses (to be renewed every 5 years) and a 10% tax rate applied to all sportsbook revenue. Even though Governor Justice never signed the bill into law, it still was accepted and the state has not looked back at being one of the first to build the sports betting industry.
Keep in mind that you can always use an online, offshore sportsbook to wager if you are located a distance away from the FanDuel sportsbook at The Greenbrier. They offer betting lines on international events and local ones and bookmakers like Bovada, BetOnline, SportsBetting, MyBookie, BetDSI, and BookMaker have all been in business for decades. Using these books for sports betting in West Virginia remains 100% legal, and thanks to their state-of-the-art data encryption and privacy standards, your actions and transactions are always safe and secure. You may even find better odds on these sites as the local gamblers aren't loading one side of the betting board, making the line adjust accordingly.
What Is The Minimum Gambling Age For White Sulphur Springs Sportsbooks?
The minimum gambling age for White Sulphur Springs sportsbooks is the same as it is anywhere else in West Virginia: 21 years old. This is a state law that goes directly in line with their casino gaming age. Any individual who appears to be close to the age requirement will be asked to present valid identification. It should be known that all the top online overseas sports betting shops accept members as young as 18, but we recommend waiting until you reach the age of 21. With this, you will not be in the middle of attempting to claim or collect your winnings even though you won the money while technically underage gambling.
Other Cities With Sportsbooks In West Virginia
Best Sportsbooks In White Sulphur Springs
Right now, the best sportsbooks in White Sulphur Springs are the online options listed above. Of course, The Greenbrier is also on that list due to it being the only land-based venue in the area. It is the obvious choice for the high-rollers who can afford such a venue and it will probably be one of the few physical sportsbooks in America that online options just can't compete with in terms of class and experience. Members and resort guests are the only ones welcome to place any bets so don't make the trip unless you plan on staying out there. If this is out of your range, just look to use the offshore sites.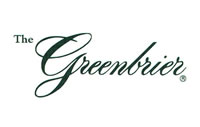 The Greenbrier Sportsbook

Address:

300 W Main St. White Sulphur Springs, WV 24986

Phone:

844-837-2466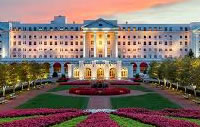 The Greenbrier, as its slogan suggests, is "America's Resort since 1778," and the property – which started out as an 11,000-acre vacation destination for the first American citizens – has since morphed into a sprawling resort replete with 710 guest rooms, 20 different restaurants and lounges, a professional-grade 18-hole golf course that hosts PGA tournaments, and even the main hub for 36 high-end retail shops.
In addition to letting it ride in the Casino Club at the Greenbrier, guests have so many options that it seems unlikely that they'd ever want to actually leave the premises. There is an executive health center, a fitness club, multiple pools, spas, and everything else anyone would ever want out of a 5-star resort destination. For history buffs, there's the Presidents' Cottage Museum located on-site, as well as the literal piece de resistance, The Bunker! Yes, The Greenbrier is the site of the famous Project Greek Island, where the US government constructed a massive concrete bunker under The Greenbrier's West Virginia Wing. This former nuclear fallout shelter for government VIPs is the number-one attraction at the Greenbrier, and anyone visiting the White Sulphur Spring sportsbook owes it to themselves to check out this unique piece of history.
You definitely do not want to miss out on the FanDuel Sportsbook at Greenbrier. Being America's only private casino, the FanDuel Sportsbook pulls out all the stops. There are 21 different televisions around the sportsbook. They will be showing games on a regular basis on top of having odds boards displayed around the sportsbook as well. Ample seating is available and since it is a private sportsbook within the private casino, you will not be fighting for a seat at one of the tables. If you want to kick back and relax at a sportsbook, the FanDuel Sportsbook at Greenbrier is the perfect pick.